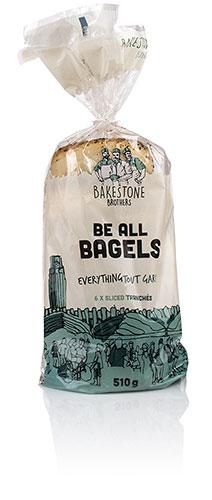 Be All Bagels – Everything
Ingredients:
Enriched wheat flour, water, dehydrated onions, sesame seeds, poppy seeds, canola oil, sugar, yeast, salt, cornmeal, wheat gluten, mono- and diglycerides, calcium propionate, malted barley flour, garlic powder, fumaric acid, potassium sorbate, calcium sulphate, enzymes, L-cysteine.
May contain traces of milk ingredients, soy and sulphites.

Bakestone Brothers bags are recyclable. Keep in mind not all municipalities accept them in the blue bins but they are accepted at most grocery stores and recycling depots.