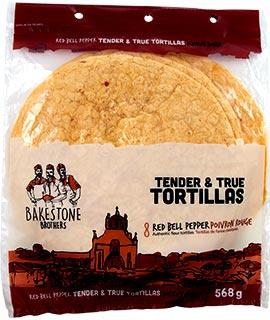 Tender & True Tortillas – Red Bell Pepper
Ingredients:
Enriched wheat flour, water, vegetable oil (canola, modified palm and palm kernel oils), red bell peppers, salt, oat hull fibre, wheat gluten, sodium acid pyrophosphate, potassium bicarbonate, potassium sorbate, mono and diglycerides, fumaric acid (contains soybean oil and/or palm oil and/or cottonseed oil), calcium propionate, cellulose gum, guar gum, xanthan gum, L-cysteine.
May contain trace of milk ingredients, soy and sulphites

Bakestone Brothers bags are recyclable. Keep in mind not all municipalities accept them in the blue bins but they are accepted at most grocery stores and recycling depots.